Nyarugenge District Hospital
---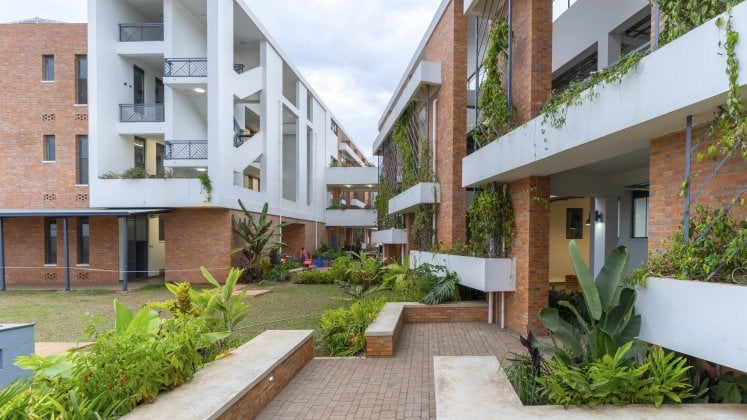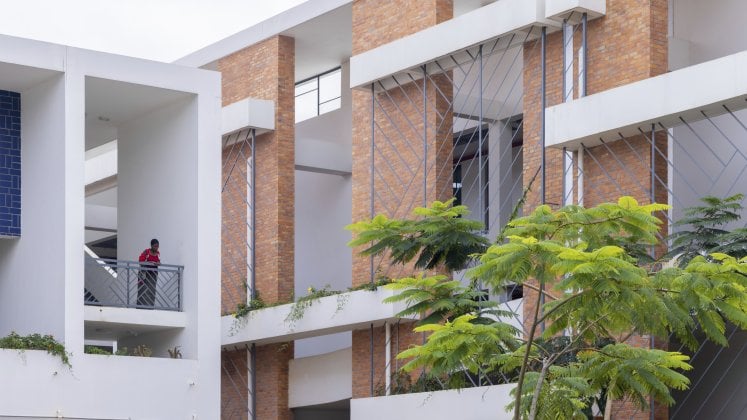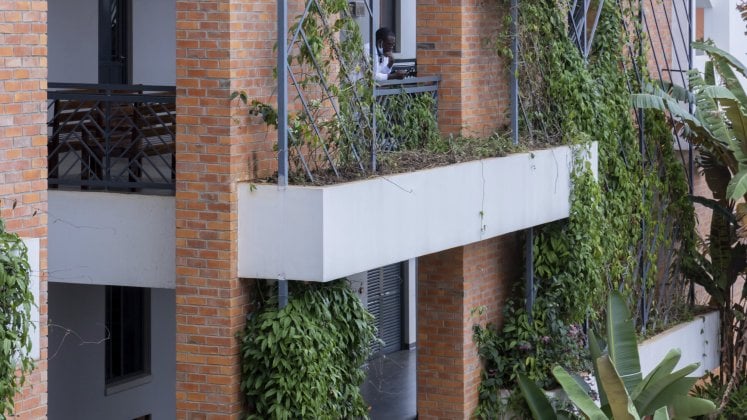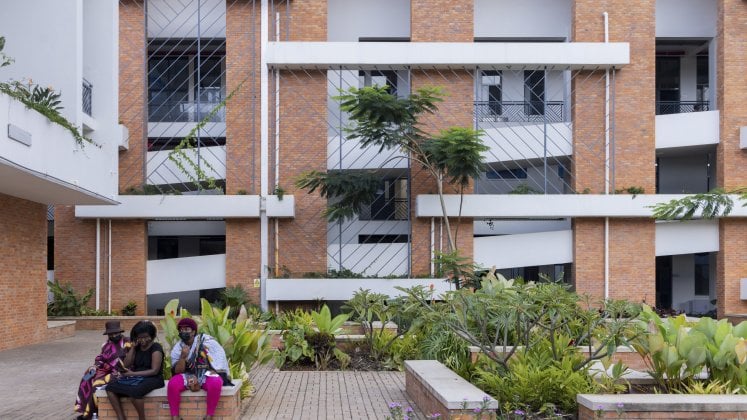 Kigali, Nyarugenge District, Rwanda
Nyarugenge District Hospital is an urban realization of the District Hospital Design Standards developed by MASS with the Rwanda Ministry of Health, and first piloted at Munini District Hospital. The 300-bed hospital will serve the most densely populated area in Rwanda: the city of Kigali, located within the Nyarugenge District. Phase I of the project was completed in July 2020 with 120 beds.
The first phase of the hospital consists of two main buildings that step gently down the urban hillside, oriented to existing site contours to reduce erosion, while maximizing views from inpatient wards and promoting natural ventilation. The hospital includes an emergency department, high dependency unit, operation rooms, labor/delivery and postpartum wards, neonatal intensive care unit, and adult and pediatric medicine wards. The design also includes an outpatient clinic, with pharmacy, diagnostic imaging, and dentistry programs.
The landscape across Nyarugenge District Hospital features multiple outdoor waiting areas, an early labor walking garden, and an expansive living plant wall that enhances thermal comfort for the building's exterior circulation and interior spaces. The public entry to the hospital is defined by an open entry ramp and stair sequence which both ensures accessibility and creates waiting space for arriving patients and visitors. Patient terraces extend from interior wards, encouraging easy access and communal gathering within a lush garden. Access to these gardens are proven to enhance health outcomes, creating a connection to nature and space for privacy. The early labor garden offers a space for expectant mothers to walk, decreasing discomfort and supporting the progression of labor. 
Native trees and plantings enhance habitat and help to manage stormwater, which is captured and filtered on site through infrastructure including permeable paving and stormwater gardens. Water is also collected from the hospital's roofs and stored in underground tanks for flushing toilets and gardening, reducing demand on the municipal water supply. 
Environmental performance is further enhanced using a passive ventilation strategy, which reduces reliance on mechanical ventilation while lowering operational costs and operational carbon. The hospital's two main buildings are orientated along the site's natural contours, improving the balance of cut-and-fill excavation and maximizing opportunity for natural ventilation. Facade planters integrate a trellis structure and climbing vines which help to shade the building, enhance passive cooling, and increase privacy. In addition, solar-powered external lighting promotes off-grid power. 
The hospital's buildings are formed by  a seismically-designed reinforced concrete shear wall system, with a mix of infill walls of compressed stabilized earth blocks (CSEBs) and concrete masonry units (CMUs). The use of earth blocks both lowers the embodied carbon of the structure, and promotes the use of local materials. 
We worked closely with the client to ensure the design, spatial planning, quality delivered was aligned with the budget and functional goals of the project. MASS also provided construction supervision for the project to ensure it met the demands of a high standard healthcare facility. In its first year of operation, as the COVID-19 pandemic emerged, Nyarugenge District Hospital served as the main treatment center in Rwanda. The second phase will include the addition of 180 beds and additional spaces and departments including operating theaters, trauma wards, mental health, ophthalmology, an intensive care unit, and a modern kitchen.
Project Details
Location: Kigali, Nyarugenge District, Rwanda
Year: 2020
Status: Completed
Size: 7,065 sq. m.
Program: 300-bed district hospital that implements Rwanda's new national hospital design standards.
Services: Project Accompaniment, Architectural Design, Landscape Design, and Master Planning
Clients:
Government of Rwanda, Belgian Technical Cooperation (Enabel)
Partners:
Sherwood Engineering
Mazzetti
Nous Engineering
JV:CCECC Ltd.
Horizon Construction Ltd.