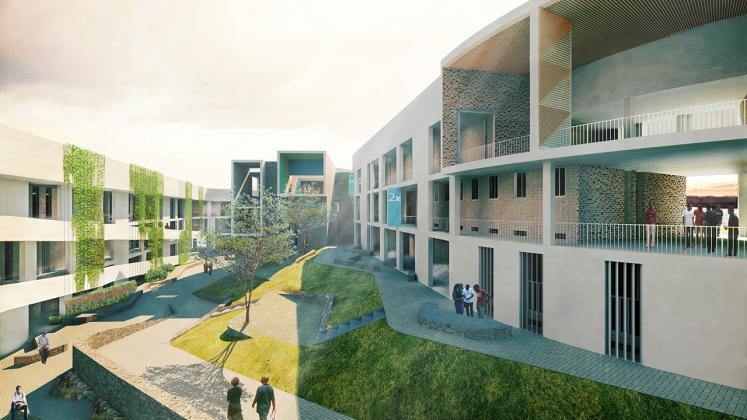 Munini, Nyaruguru District, Rwanda
The Rwandan Ministry of Health needed a national standard for district-level referral hospitals. MASS created site-less "typical" plans of various hospital departments, wards, and other critical components as tools for use designing hospitals on actual sites.
To demonstrate how site-appropriate architecture could be created from these typical plans, MASS then designed Munini District Hospital for the MOH on a steeply graded hill with an actively visited genocide memorial at the top. The hospital bars are bent and deployed circumferentially in deference to the memorial.
Munini is a 14,400 square meter, 300 bed facility slated to begin construction in 2016. Circumferential bar buildings follow the hill sites contours, respect the memorial, are planned with exterior hallways, and are dimensioned in section to promote natural ventilation. These bars define a central courtyard space and overlap with each other where a deeper floor plate is needed for program elements such as the OR suite and maternity.
Project Details
Location: Munini, Nyaruguru District, Southern Province, Rwanda
Year: 2018
Status: In Progress
Size: 14,400 sq. m.
Program: District Hospital
Services: Project Accompaniment, Architectural Design, Landscape Design and Master Planning
Clients:
Government of Rwanda