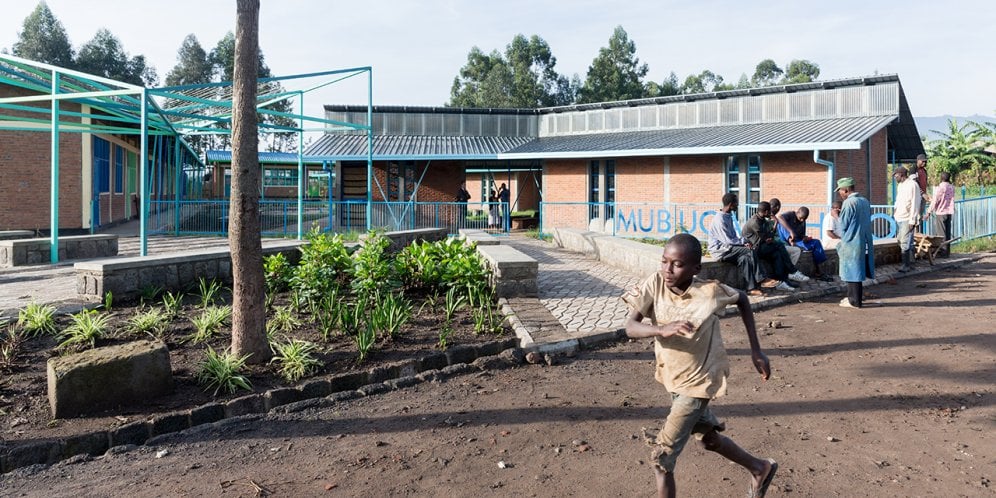 Can a school's design serve as a example for improving education?
In 2006, Rwanda implemented the "Nine-year Basic Education Programme" eliminating school fees and expanding access to education. While this has been successful in increasing enrollment rates, adequate infrastructure does not currently exist to support these initiatives and ensure quality education.
In 2015 MASS Design Group completed the Mubuga Primary School to serve as a model for Rwandan public education and create an exemplary comfortable, healthy, and playful learning environment. The facility features new prototypical classrooms that ensure adequate daylight, ventilation, and acoustics for engaged learning, as well as an Advanced Education Center with a library and teachers' resources space. Notably, the school is landscaped with distinct play areas, a volley ball court, and outdoor education areas, creating a campus with an emphasis on play and sports as a means to promote healing and unity. The construction utilizes local materials, techniques, and labor, to ensure design solu­tions are replicable locally to address issues of school infrastructure throughout the region.
The Mubuga Primary School is built in generous partnership with the M2 Foundation.
Project Details
Location: Musanze, Rwanda
Year: 2015
Status: Completed
Size: 1,200 sq. m.
Program: Improved Design of Rwandan Primary School Classroom Prototype
Services: Community Engagement, Architectural Design, Landscape Design, Furniture Design, Construction Administration, On-site Training
Clients:
M2 Foundation
Partners:
Nous Engineering