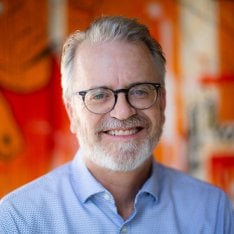 Shawn Evans, AIA, APT-RP
Principal
Santa Fe, NM, USA
Growing up in the American suburbs, it wasn't until traveling abroad that Shawn Evans encountered architecture that reflects the values, identity, and history of its community. This inspired his lifelong mission to create spaces that empower communities to safeguard their heritage and shape their future.
Shawn serves as a Principal at MASS Design Group, where he co-leads the O'ga P'ogeh (Santa Fe) Studio. He is currently leading the restoration of Robert Oppenheimer's house, the Modern Elder Academy, the Amador Hotel, and the Pritzker Student Center at St. John's College.
Shawn joined MASS in 2022 through a strategic partnership with AOS Architects, where he led a wide range of planning, preservation, museum, higher education, affordable housing, and tribal projects during his 27-year tenure. Notably, he contributed to revitalizing centuries-old Pueblo villages at Ohkay Owingeh, Zuni, Cochiti, Isleta, and Kewa; planning for the transformation of Eastern State Penitentiary into a historic site for American criminal justice reform; and realizing Siler Yard Arts + Creativity Center, New Mexico's first net-zero multi-family affordable housing project.
Shawn's expertise as a heritage professional has led him to speak at more than 70 regional and national conferences. He was one of three architects selected by the Association for Tribal Archives Libraries and Museums (ATALM) to lead the Culture Builds Communities program, a multi-year program training tribal communities in the planning and design of cultural centers.
In 2010, he received the James Marston Fitch Mid-Career Fellowship, where he collaborated with the Pueblo tribes of the American Southwest to study contemporary preservation and rehabilitation efforts. Under Shawn's leadership, AOS Architects received the AIA New Mexico Firm of the Year Award in 2021 and MASS was named the AIA Santa Fe Firm of the Year in 2022.
Shawn studied architecture at Texas A&M University and holds a Master of Architecture from the University of Pennsylvania. He has taught architectural design at Temple University, the University of Pennsylvania, and the University of New Mexico.