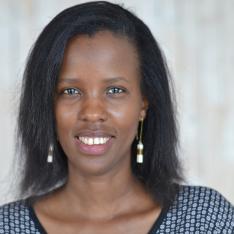 As architects we have the mission to provide buildings that improve peoples lives, while simultaneously preserving the environment. Buildings should not be intimidating, uncomfortable or alien for the end users. They should manifest an identity by adapting themselves to the environment where they are being built.
Noella Nibakuze
Design Director
Kigali, Rwanda
Noella Nibakuze joined MASS in 2017, and is a Design Associate working on architectural design, construction administration, building technology, and sustainability. A registered architect with eight years of experience, she has a particular interest in projects that have a positive impact on vulnerable communities in Africa, and hopes to improve people's lives through built environments that promotes sustainability and justice.
At MASS, Noella is leading the construction of the Rwanda Institute for Conservation Agriculture (RICA), a 1400 hectare One Health agricultural campus conceived and funded by the Howard G. Buffett Foundation and supported by the Government of Rwanda. Prior to RICA, she worked on the design of Masaka Affordable Housing, a high-density, sustainable model for affordable housing, designed to meet the environmental, cultural, and social needs of Rwanda's growing cities. Noella was also a Program Coordinator of the African Design Center, a twenty-month fellowship set to empower African designers to build a more equitable, just, and sustainable world.
Before joining MASS, Noella was an Architect at Studio 4 Architects in Rwanda, where she worked on education facilities, hotels, housing complexes and residential units, including Vision City Estate, the biggest residential housing project in Rwanda to date. Noella is also passionate about supporting young women pursuing STEM and design related careers. In 2020, she was an architectural design mentor on sustainable architecture to ten young Rwandan women artists taking part in the Green Architecture Project, a six-month project by the Soul of Nations Foundation. Noella is a 2018 Techwomen Fellow and is also involved with the School of Architecture and Built Environment at the University of Rwanda, where she has been a Visiting Lecturer for the past four years.
Noella is a member of the East African Institute of Architects, where she served as the treasurer between 2018-2019, and was nominated in 2021 by the Rwanda Institute of Architects to represent the Institute on the Union Institute of Architects' UIA 2021-2023 Working Groups on the Community Architecture Group. She holds a Master's Degree in Architectural Technology from Tshwane University of Technology in Pretoria.