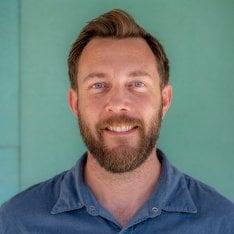 Our first, largest, and longest running project is the design of our practice.
Alan Ricks, AIA, Int FRIBA
Co-Executive Director and Founding Principal
Boston, MA, USA
As Co-Executive Director, Alan supports MASS to build a more just, resilient, and beautiful world. He co-founded MASS with classmates at the Harvard Graduate School of Design and served as Founding Principal and the Chief Design Officer before taking on his current role.
Alan works alongside Patricia Gruits, Co-Executive Director for North America, and Christian Benimana, Co-Executive Director for Africa, to support the leadership of the five design studios and the departments of MASS. In addition to continuing to collaborate on and lead select projects, he oversees various teams working across the practice. This includes Global Operations, Design Process & Learning, which focuses on three pillars: Accompaniment, Performance & Provenance, and Building Integrity, as well as the Advocacy team, which aims to bring MASS's work and the organizations they serve to the forefront of the public's attention. 
MASS Design Group has received the National Design Award for Architecture from the Cooper Hewitt Smithsonian Design Museum and was named Firm of the Year by the American Institute of Architects. The organization was also recognized as Innovator of the Year by the Wall Street Journal. 
He has recently led advanced architecture studios at Yale and Harvard and regularly speaks, writes, and helps to create films focused on the role of architecture in catalyzing social change. Chris Anderson, chief curator of TED, described his TED talk as "a different language about what architecture can aspire to be." 
Alan was honored with an International Fellowship from the Royal Institute of British Architects in appreciation of his significant contributions to the field. He is also a member of the World Economic Forum's Young Global Leaders, a community working towards positive change and progress in various fields. 
He lives in a house he designed in Cambridge, MA, with his wife Cristina and three children, Siena, Sage, and Sloan, who provide him with regular design critiques. Before architecture, he tried many other fields, but he is mainly asked to tell stories about a brief stint as a commercial fisherman in Alaska.
Alan holds a Master of Architecture from the Harvard Graduate School of Design. He earned his Bachelor of Arts from Colorado College, where he was also bestowed an Honorary Doctor of Fine Arts degree.