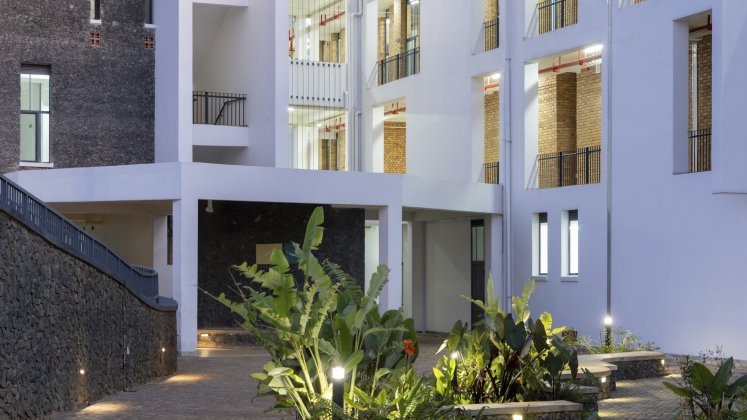 Munini, Nyaruguru District, Rwanda
Over the last 28 years, Rwanda has made remarkable economic transformation and put in place social programs that have played a major role in ensuring a dignified standard of living for Rwandans: reducing the poverty rate as well as increasing life expectancy, primary school enrollment, and healthcare spending across the country. The government has placed particular focus on tackling the health needs of rural communities by expanding access and quality of healthcare services.
Beginning in 2012, MASS worked with the Rwandan Ministry of Health to develop the District Hospital Design Standards that could be adapted to the context, demographics, and programmatic requirements of each of Rwanda's thirty districts, with the goal of improving health outcomes. The Munini District Hospital pilots the implementation of these standards. A 300-bed facility designed from the ground up in Nyaruguru District, the Munini District Hospital is intended to create a new model of referral hospital infrastructure for Rwanda. Phase I of the project was completed in 2022 with 168 beds.
To adapt the facility's plan to a relatively condensed site, the hospital consists of multiple building "bars," designed to bend to match the natural contours of the site. Two buildings were completed in Phase I, with a final to be constructed. The buildings are strategically opened up and connected by bridges, allowing for the passage of prevailing winds, while defining a central courtyard and garden space that provide areas for rest and social connection. 
With the majority of patients arriving at Munini District Hospital by foot or public transport, the primary entrance to the hospital is a landscaped path that provides areas for open air seating and green-spaces, creating a tranquil, healing environment. Emergency services are vertically separated from reception to allow for ease of flow across the emergency room, operations suite, intensive care unit, imaging, and post-op areas — each connected by a bridge that links between buildings.
The design of Munini Hospital reduces the spread of disease through natural ventilation systems, isolated services, and improved access to hand-washing stations. Rwanda's equatorial, mountain climate allows for the building to be almost completely open to the surrounding environment. The hospital features exterior corridors and narrow building footprints to facilitate cross-ventilation and natural lighting, while reducing the risk of airborne infection. 
Patient, staff, and visitor flows are also optimized to minimize overlap with at-risk patients. A natural ventilation system is further supported through high roofs, breeze blocks, louvers, and low energy ceiling fans throughout the facility. The hospital's largest programs – private rooms and open wards – are set back from the building's face to provide dedicated balconies, shading, and outdoor space. Germicidal ultraviolet lighting further disinfects patient wards. 
Another facet of the Hospital Design Standards modeled by Munini Hospital is a commitment to local fabrication. Each new district hospital should not only serve the surrounding community by providing healthcare, but also elevate and include its community members throughout the building process, leveraging local expertise and creativity. At Munini Hospital, we specified brick from within a 10 kilometer radius and stone quarried from the immediate region, to support local businesses and ensure economic return to the community. 
From an engineering perspective, the hospital's reinforced concrete shear wall system is designed to resist seismic loads, and conforms to the site topography through stepped foundations tied together with ground beams. Rainwater is harvested from the roof for irrigation and firefighting, and runoff is managed through the maximization of planted areas and permeable paving. As the project engineer during construction, MASS collaborated with the contractor to maintain design intent, while upholding health and safety best practices.
Project Details
Location: Munini, Nyaruguru District, Southern Province, Rwanda
Year: 2022
Status: Completed
Size: 14,400 sq. m.
Program: A 300-bed hospital that will pilot Rwanda's updated district hospital design standards
Services: Project Accompaniment, Architectural Design, Landscape Design, Master Planning
Clients:
Government of Rwanda
Partners:
Rwanda Ministry of Health
Mazzetti
Sherwood Design Engineers
NOUS Engineering
Bruce Nizeye
Emmanuel Mumu Wamalwa
JV - HYGEBAT & CONTECH