Willamette Falls Inter-Tribal Public Access Project
---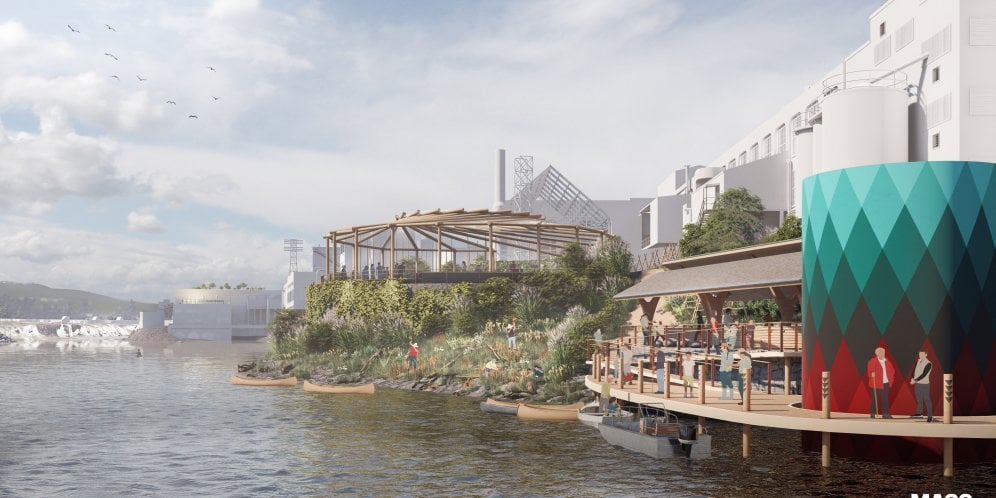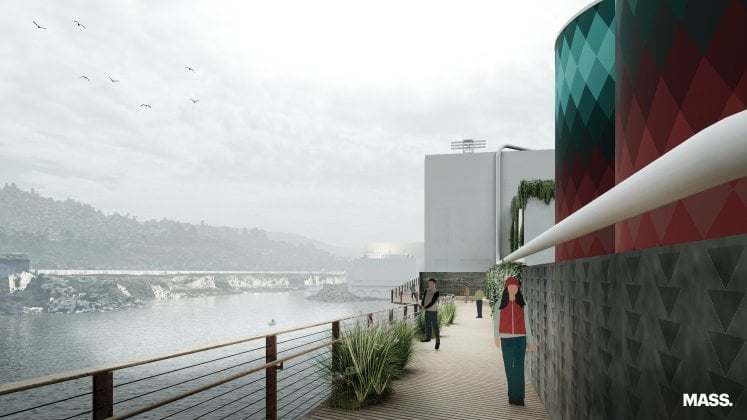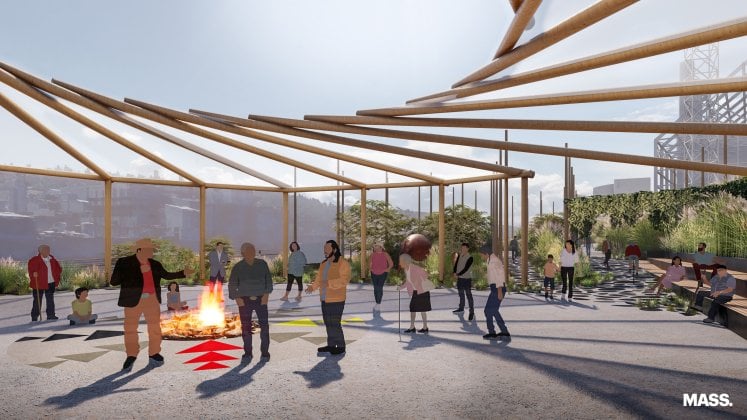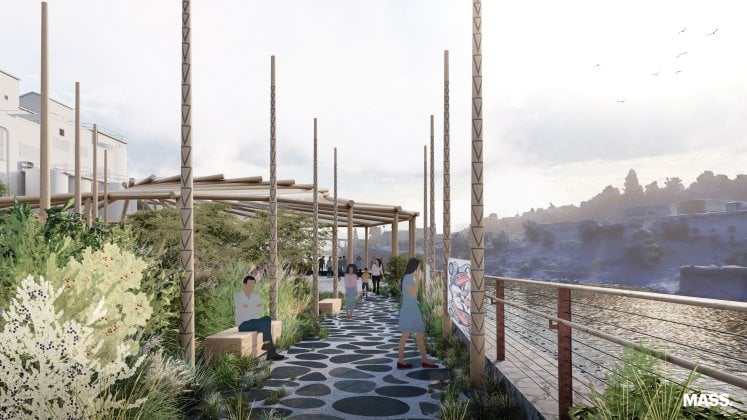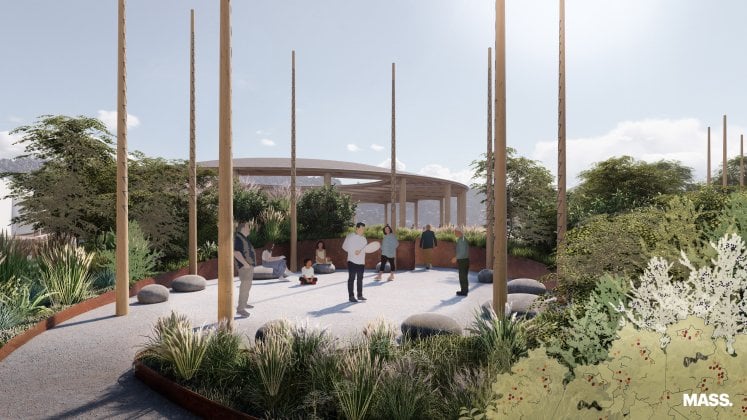 West Linn, Oregon, USA
Our partners at Willamette Falls Trust are working towards restoring public access and sacred spaces at Willamette Falls in West Linn, Oregon. The Willamette Falls Inter-Tribal Public Access Project will create new spaces for the public to gather near the second-largest waterfall in North America, and elevate the cultures and lifeways of the many Indigenous people with connections to the land and water that have sustained the region for millennia. The project design, located on the island west of Willamette Falls, includes public walkways, spaces for interpretation, cultural events, community programming, viewing structures and other public amenities. The concept design by MASS Design Group centers on several years of community engagement and programming work in collaboration with the Trust and with multiple Tribal communities.
In partnership with the Willamette Falls Trust, MASS facilitated a series of community engagement activities with multiple Tribal communities to hear guidance on a range of values, meanings, and interpretations around Willamette Falls, while planning for proposed public use and enjoyment of access ways, spaces and amenities. The Trust and MASS met with Tribal community members, Tribal Council members, and other individuals connected to the future of Willamette Falls, including the Confederated Tribes of Siletz Indians, Confederated Tribes of the Umatilla Indian Reservation, Confederated Tribes of Warm Springs, and the Confederated Tribes and Bands of Yakama Nation.
Based on these Tribal engagement conversations, MASS developed preliminary site strategies and spatial implementation concepts, establishing an approach that builds upon Tribal guidance to reclaim and develop spaces for inter-Tribal gathering and collaboration. The site strategies also explore new opportunities including accessing the Falls, harvesting cultural resources, and sharing stories and interpretation.
The island site on the West Linn waterfront along the Willamette River affords close and dramatic views of Willamette Falls. Portland General Electric (PGE) generates electricity at its Willamette Falls Hydroelectric Project and owns property on the island. In 2023, Willamette Falls Trust and PGE signed a Feasibility & Cooperation Agreement, enabling the Trust to assess a portion of PGE property for a project intended to return public access to a place of deep spiritual, cultural and historical connection for the region. Through this cooperative Agreement, the Trust will engage experts to study PGE property outside of areas under the jurisdiction of the Federal Energy Regulatory Commission (FERC) boundaries around the power plant. 
More information about Willamette Falls Trust and the Willamette Falls Inter-Tribal Public Access Project is available at willamettefallstrust.org.
Project Details
Location: West Linn, Oregon, USA
Year: 2018
Status: In Progress
Services: Community Engagement, Site Analysis, Conceptual Design
Clients:
Willamette Falls Trust
Partners:
Portland General Electric, Tribal Leaders & members from communities including: the Confederated Tribes of Siletz Indians, the Confederated Tribes of the Umatilla Indian Reservation, the Confederated Tribes of Warm Springs, and the Confederated Tribes and Bands of Yakama Nation