St. Vincent Charity Health Campus Facility
---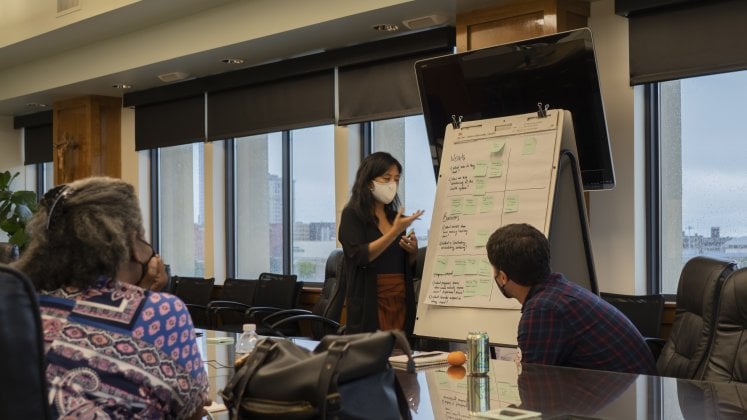 Cleveland, Ohio, USA
The St. Vincent Charity Health Campus builds on the Sisters of Charity's legacy of care by bringing new services to the community that address the social determinants of health. MASS and Sisters of Charity are working alongside partners who live, learn, work and play in this neighborhood to redesign the Sisters of Charity's East 22nd Street Campus into a person-centered, vibrant hub of safety, warmth, and healing.
MASS convened hundreds of hours of dialogue with residents and institutions of Central Neighborhood and greater Cleveland to understand what social and economic needs should be addressed by the Health Campus. Recurring challenges of poverty, structural racism, access to mental health and addiction services, safety, food security, and the need for educational and economic opportunities were consistently-elevated topics.
The reimagined Health Campus envisions the transformation of several blocks to offer community-based crisis and recovery services, healthy food access, safe and affordable housing, education and workforce training, and support the opportunity to live a peace-filled life. The campus will be designed to attract diverse community partners who will co-locate services to address the social determinants of health and enhance opportunities for economic development and revitalization. 
Project Details
Location: Cleveland, Ohio, USA
Year: 2021
Status: In Progress
Size: 20 acres
Program: Facility planning and visioning services for the oldest hospital campus in Cleveland.
Services: Visioning, Engagement, Planning
Clients:
Sisters of Charity Foundation
Partners:
St. Vincent's Charity Medical Center;
Sisters of Charity Health System;
Sanfoka Circle International, Dr. Shemariah Arki