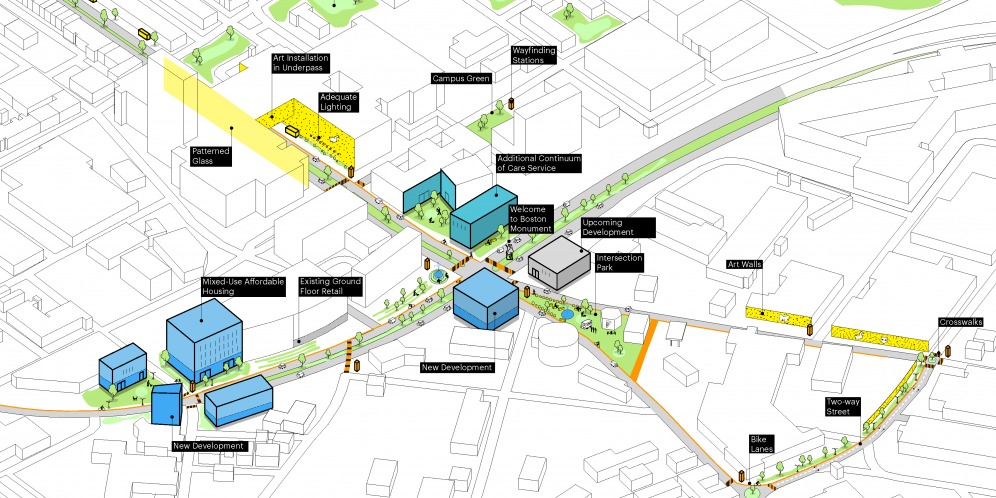 Boston, Massachusetts, USA
Homelessness and opioid addiction are national challenges faced by many cities in the US. In Massachusetts, the state with the 7th highest rate of homelessness in the nation, deaths from opioid overdose tripled between 2013 and 2017. An increasing number of residents from across the state seek treatment in Boston, the leading city for recovery services in the region. Historically, a dozen social service organizations have been located along the Massachusetts Avenue Corridor - running between the South End and Roxbury neighborhoods through the industrial Newmarket District. The closing of Boston's "Long Island Shelter" in 2014 placed further demand on services in this area, contributing to a rise of homelessness and opioid use on the streets and causing the area to receive the negative moniker of "Methadone Mile."
As the neighborhood intersection develops, inadequate urban planning and rising real estate values are leading to widespread gentrification, heightening tensions between residents, patients, local businesses, service providers, law enforcement, and local government departments. In Fall 2016 Mayor Walsh responded by establishing a Working Group on the Issues of Homelessness and Addiction at Massachusetts Ave and Melnea Cass Blvd bringing together a range of stakeholders to address these issues.
After attending Working Group meetings, MASS Design Group established a collaboration with the Boston Architectural College and the Rhode Island School of Design to explore how design can contribute to the short and long term solutions to these public health issues. This collaboration brought together architects, landscape architects, and industrial designers to conduct interdisciplinary research, analysis of the urban conditions, and community engagement, to develop holistic and inclusive design solutions to the issues at Massachusetts Ave and Melnea Cass Blvd. The project resulted in rich data visualization, film documentation, and a master plan strategy for the corridor that will address gaps in facilities and services for those seeking support for addition or homelessness as well as create a just and equitable Boston for all. This master plan was presented to the Working Group for feedback in summer 2017. The project's next steps are to identify priorities and key partnerships to move forward with implementation.
Project Details
Location: Boston, Massachusetts, USA
Year: 2019
Status: In Progress
Size: 900,000 sq. ft.
Program: Research into public health solutions for people without homes
Services: Research, Urban Design
Clients:
The Mayor's Working Group on Homelessness and Addiction at the Intersection of Massachusetts Ave & Melnea Cass Blvd
The Boston Architectural College
Rhode Island School of Design