Masaka Affordable Housing
---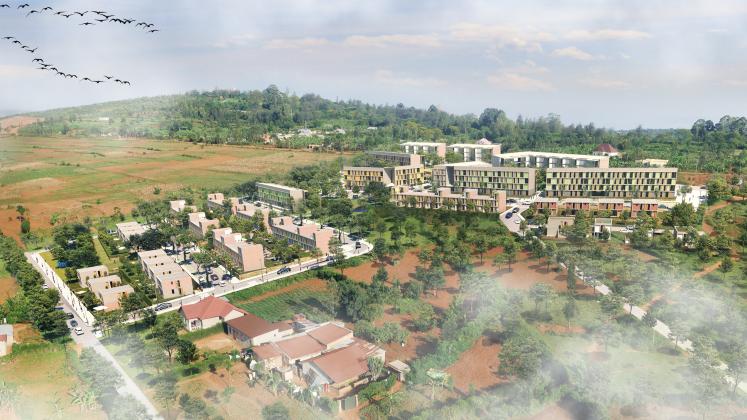 Kigali, Kicukiro District, Rwanda
Masaka Affordable Housing provides a new eco-conscious model for affordable housing design in Rwanda, addressing the growing need to house Rwanda's expanding urban population. Counteracting trends of overcrowding, informality, and sprawl, Masaka responds to the spatial needs of Rwandan urban dwellers by increasing density in a culturally responsive and climate-adapted manner, using low-cost and locally-fabricated building technologies. It is estimated that the project will produce 57% less embodied carbon than the national average.
The neighborhood development integrates green spaces and infrastructure, providing public pedestrian corridors, public transit extensions, and permeable paving to increase climate resilience. A mix of housing typologies to accommodate various family sizes ensures that dwellings are both affordable and culturally sensitive. In addition to housing, the development includes socially-responsive amenities to the neighborhood, such as storage for market produce, laundry areas, vegetable gardens or akarima k'igikoni, and community spaces for monthly community meetings.
The project pioneers the use of aerated autoclaved concrete construction as a cost-effective, Made-in-Rwanda building technology. Masaka is the first private sector, profitable affordable housing project in Rwanda, hoping to catalyze broader engagement by developers and policymakers in the provision of affordable housing in Rwanda.
Project Details
Location: Kigali, Kicukiro District, Rwanda
Year: 2017
Status: In Progress
Size: 26,750 sq m
Program: High-density, sustainable model for affordable housing, designed to meet the environmental, cultural, and social needs of Rwanda's growing cities.
Services: Visioning, Schematic Design, Architectural Design, Landscape Design, Masterplanning, Design Development, Construction Documents