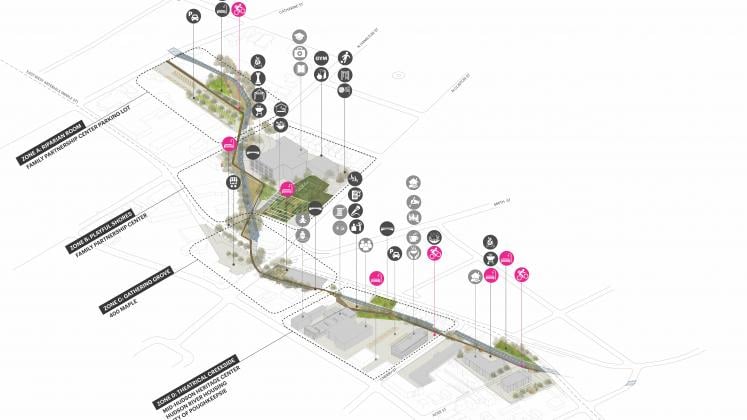 Poughkeepsie, New York, USA
In partnership with Scenic Hudson, the Hudson Valley Design Lab is cultivating new opportunities for outdoor community space along the Middle Main portion of Poughkeepsie's Fall Kill Creek. Flowing westward into the Hudson River, the Fall Kill once powered the city's 19th century manufacturing industry through a complex system of mill ponds, yet today the creek winds through back yards and under streets, largely forgotten. MASS first became acquainted with the creek after it flooded during Hurricane Irene in 2011. Channelized, culverted and out of sight, the creek has become a popular dumping site, plaguing the city as a hazard rather than supporting public enjoyment of its natural wonders.
Driven by the goal to reimagine public use of the Fall Kill, MASS and Scenic Hudson invited community members to a series of engagements throughout the city to learn about the creek and to share ideas for improving public access and stewardship. With ongoing community support, new access points to the creek will link together existing assets throughout the city, providing new opportunities for ecological education, recreation, and public enjoyment. The first phase of the project focuses on the section of the creek between Catharine and Rose Streets, aiming to stimulate economic growth in the Middle Main Corridor of the city with the support of neighboring partners.
Project Details
Location: Poughkeepsie, New York, USA
Year: 2016
Status: In Progress
Program: Activation of a forgotten urban creek for education, capacity building, recreation and communal gathering
Services: Community Engagement, Site and Programming Research, Masterplanning, Schematic-Design Visioning
Clients:
Scenic Hudson
Partners:
City of Poughkeepsie, Hudson River Housing, Mid-Hudson, Heritage Center, Family Services