Downtown Local Food Campus
---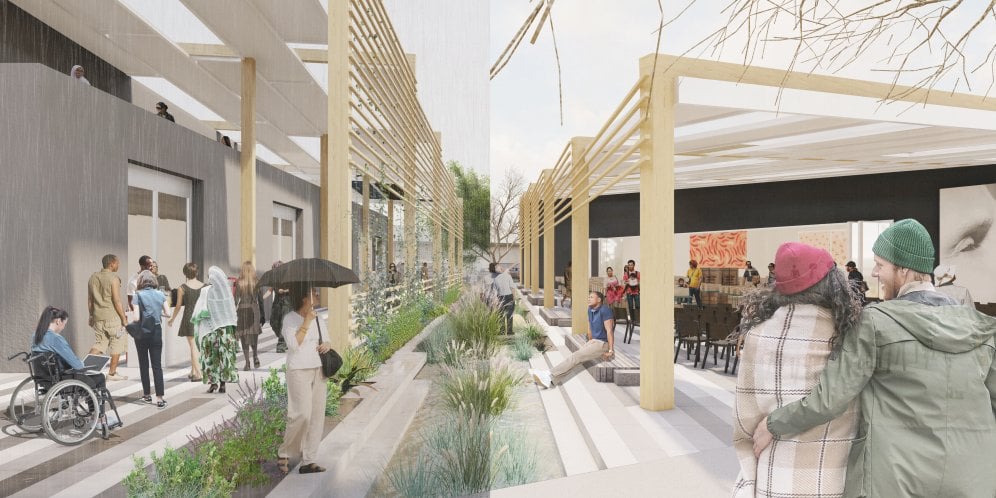 Albuquerque, New Mexico, USA
Three Sisters Kitchen and the Downtown Growers' Market — two keystone organizations in Albuquerque's regional food system — have reached capacity at their current sites. Both organizations are looking to grow in order to support the diversity of local food producers and consumers that rely on their facilities and supportive services. This expansion could not be more timely. According to the Albuquerque Food and Agricultural Action Plan, 17.6% of Albuquerque residents live in poverty, which not only impacts people's ability to access food, it also jeopardizes the region's economic potential. COVID has only compounded this reality. 
The future Downtown Local Food Campus, featuring a year-round market, local foods shop, and cafe that all prioritize food access assistance programs, will help expand access for low-income families across the City. Expanding training, incubation, storage, production, and vending space for local growers and small food businesses will also help alleviate demand and support the City's economic development goals.
Located along Downtown's NW Central Ave, the Food Campus is strategically located to bolster food infrastructure in a part of the City that has seen rampant disinvestment and property vacancy over the past several decades. While a single development cannot be a panacea for grassroots neighborhood reinvestment, it can catalyze collective action and stewardship of spaces and businesses in the vicinity of the Food Campus.
Investing in spaces that facilitate food production, business scale-up, knowledge sharing, and access to direct markets are key to ensuring our local food system is supported. Through a design that centers a broad range of programs on a central acequia, the future Downtown Local Food Campus seeks to catalyze the shift to a values-based food system centered in Downtown Albuquerque.
The Food Campus will also expand access to local food, economic opportunity, and civic gathering space; inspire experimentation amongst local eaters and producers; bridge Burqueños across cultural and economic divides; reflect and expand on regional ecologies and vernacular traditions; and promote individual, communal, and environmental health.
Drawing from the cintas (banded) logic of Northern New Mexico's acequia networks, the site organization re-orients the urban grid — bisecting the site to expand access from Robinson Park and prioritize pedestrian circulation. The building's spatial organization inspires experimentation by directing users through porous perimeters and open air canopies toward a central courtyard that supports a variety of public-to-private areas for gathering.
The landscaping and building orientations encourage natural and efficient flow through the site, connecting staff, visitors, vehicles, and water in a natural harmony. Native plantings, display gardens and areas for food production make up a health trail that connects urbanites to agricultural landscapes. Passive ventilation strategies, as well as activating the roof with solar panels, skylights, and green roof planting trays promote health and wellbeing.
The acequia and native planting strategy are expressive of regional agriculture practices, while the selection of recycled and locally-sourced materials connect the building to its site. The design incorporates both vernacular and contemporary building practices that celebrate the Southwest's architectural history. Elements like portales, placitas, vigas, latillas, canales, acequias and bosques are re-interpreted within a site-specific design logic, further re-establishing connections to the acequia network that are more essential than ever for preserving and elevating Albuquerque's regional food systems.
Project Details
Location: Albuquerque, New Mexico, USA
Year: 2022
Status: In Progress
Size: 29,390 sq ft
Program: Food Campus featuring a year-round market, local foods shop, and cafe space.
Services: Predesign & Planning, Schematic Design
Clients:
Three Sisters Kitchen
Partners:
Downtown Growers' Market