Cleveland Public Library Martin Luther King, Jr. Branch
---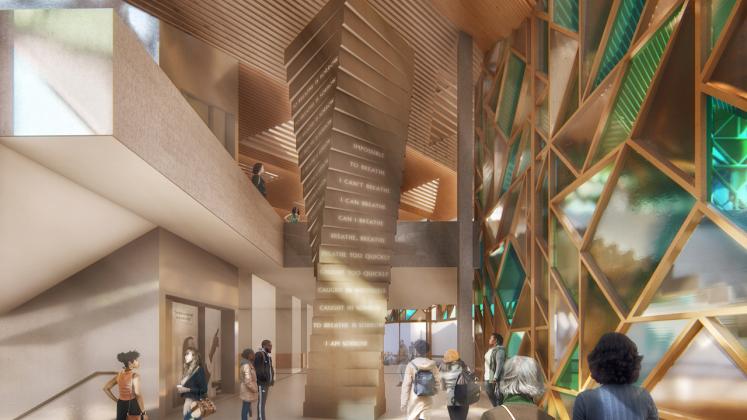 Cleveland, Ohio, USA
Our building form is a three dimensional manifestation of the "Crossroads" quilting pattern symbol, and as such, the entire building is laid out on a diagonal grid. Over top of this triangulated glass form is laid a "garment" covering made of faceted colored glass patterns chosen through our work with Hank Willis Thomas, which shows the "Flying Geese" symbol and acts as a rain screen and shade device. The "garment" floats freely at the west end of the building, and gradually becomes more attached to the building underneath at the building entrance to the east, where one can either enter directly from Euclid Avenue or by ascend a grand public staircase to a light-filled Grand reading room and public square on the second floor.
The Anisfield Wolf collection is housed centrally in a dramatic freestanding sculptural volume that can be seen from both main floors, and houses story booths that provide a direct way for visitors to hear and share stories, as well as to learn about the stories highlighted in the Anisfield Wolf collection. The landscape design continues that language of the quilted garment pattern onto the plaza, and introduces a series of sculptural busts of Anisfield Wolf writers and local leaders, a collection which we imagine could continue to grow over time. These busts continue the narrative of sharing and revealing hidden stories, lifting up voices far beyond the bounds of the building itself.
Project Details
Location: Cleveland, Ohio, USA
Year: 2018
Status: Competition
Size: 23,000 sq. ft.
Program: Library and community hub inspired by Dr. Martin Luther King, Jr. and shared growth through storytelling.
Services: Schematic Design
Clients:
Cleveland Public Library
Partners:
Local Projects, LDA, Hood Design Studio, Hank Willis Thomas, Sarah Lewis