All Nations Health Center
---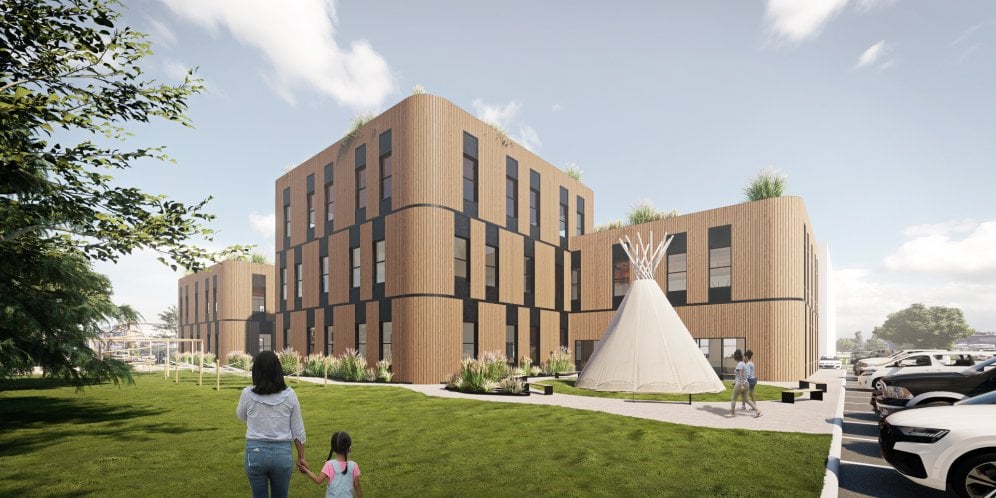 Missoula, Montana, USA
According to the US Census, approximately 71% of American Indians and Alaska Natives live in Urban Areas. The All Nations Health Center in Missoula, Montana is one of 41 Urban Indian Health Programs in the United States with services including primary medical and clinical services, behavioral and mental health care, health education and promotion programs, insurance assistance, local transportation services, and support for human trafficking survivors. 
Today, All Nations Health Center serves just over 2,000 American Indian and Alaska Native individuals with Blackfeet, Confederated Salish and Kootenai Tribes, Gros Ventre/Assiniboine, Northern Cheyenne, Crow, and Chippewa Cree being the most served tribal members. Eager to expand their services, All Nations Health Center intends to build a purpose built facility to replace their existing multiple facilities.
MASS produced a preliminary architecture report for All Nation Health Center's new-build five-story medical and housing complex. This facility will support All Nation Health's holistic approach to health, while also creating a presence or marquee of the American Indian community in the urban center of Missoula. All Nations Health Center maintains goals and practices of holistic wellness and trauma informed care, offering a comprehensive suite of healthcare services guided towards the Montana Native community. 
Project Details
Location: Missoula, Montana, USA
Year: 2020
Status: In Progress
Size: 50,000 sq ft
Program: Preliminary architecture report for a new-build five-story medical and housing complex,
Services: Visioning, Engagement, Concept Design
Clients:
All Nations Health Center, Native American Development Corporation