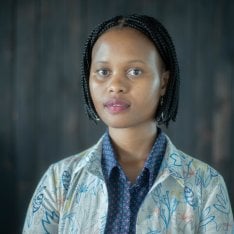 Sarah Agatoni
Learning and Engagement Copywriter
Kigali, Rwanda
Sarah Agatoni is a storyteller and technical writer who is energized by building connections between people and ideas. 
As a Copywriter at MASS Design Group, Agatoni plays a crucial role in narrating and documenting the story of MASS, supporting speaking engagements, and establishing effective knowledge management systems within the Advocacy team. As a member of the culture committee, Agatoni contributes to cultivating a culture of learning and engagement at the Kigali office. 
Before joining MASS in 2022, Agatoni held roles in research, education, and food sustainability. More recently, she helped to ideate and execute a global arts and health festival at the University of Global Health Equity. 
With a passion for communicating across different media, Agatoni co-produced In Tune, a podcast on music and mental health, and Ufahamu Africa, a podcast on life and politics in Africa. She has been published in The Washington Post and Mesh, a public health community engagement network. 
Agatoni graduated with a Bachelor of Arts in Mathematics and Economics from Smith College, where she spent a year studying abroad at Sciences Po and Paris Diderot. During this time, she practiced permaculture in Côte de Jor.