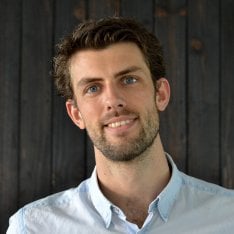 Inspiration strikes for new projects and ideas when we begin working with interesting materials and production techniques.
Niels Datema
Product Designer
Kigali, Rwanda
Niels joined MASS in January 2019 as product designer and material expert with MASS.Made. His material expertise, hands-on skills and immense flexibility in problem solving has helped Mass.Made in the development of the entire product catalog with over 250 products.
Niels developed products for several large-scale projects including Norrsken Kigali House, The Rwanda Institute of Conservation Agriculture and The Ellen DeGeneres Campus of the Dian Fossey Gorilla Fund. Prior to joining MASS, Niels was running his own Product Design Studio in Spain, predominantly focusing on the gastronomy world, working for Micheline chefs and restaurants.
Niels holds a Bachelor's Degree in Product Design from the Design Academy Eindhoven, an interdisciplinary educational institute for art, architecture and design which is widely regarded as one of the world's leading design schools. Before the Design Academy, he completed a 4-year study for woodworking, furniture design and interior design.