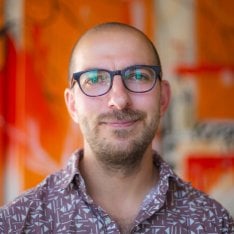 The impact of good design stretches far and can be a focal point for positive change in a community. As designers we need to consider all the potential impacts, positive and negative, from the beginning.
James Kitchin, CEng MICE, EDGE Expert
Director of Engineering and Performance & Provenance
Bozeman, MT, USA
James joined MASS as an Engineers Without Borders UK Fellow in 2017 and would later lead the structural design of The Ellen DeGeneres Campus of the Dian Fossey Gorilla Fund. He has expertise in designing low carbon buildings, seismic engineering and designing with non-conventional materials.
James has a background in structural and civil engineering and deep expertise in designing with healthy, natural, and non-conventional materials. He has also led research and policy change around building materials and embodied carbon. James strives to minimise the footprint of the built environment through intimate knowledge of place and process, and to maximize the maker's handprint through collaboration. As co-lead of the Performance & Provenance department at MASS, he is committed to imagining, advocating and implementing regenerative practices.
James graduated from the University of Sheffield, and has worked for AECOM in the UK as a Structural Engineering and Project Manager. He helped design schools for UNICEF in Malawi, and volunteered as an Engineer in Nepal after the Gorkha earthquake. James is also a Chartered Member of the Institution of Civil Engineers.