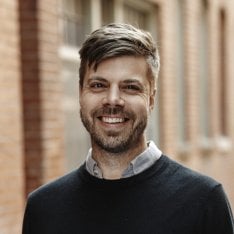 I believe everyone deserves a well built environment and that innovative architecture can be created in unexpected places.
David Saladik
Senior Principal
Boston, MA, USA
David Saladik is a Senior Principal overseeing MASS's international health portfolio. Having joined MASS in 2008 during the design of the Butaro District Hospital, his work over the last decade has been aimed at leveraging the built environment to improve health outcomes as well as engage and empower communities. He has spearheaded MASS's expansion into new geographies focused on long-term health systems strengthening, establishing new offices in Port-au-Prince, Haiti, and Monrovia, Liberia.
David currently co-leads MASS's largest office in Kigali, Rwanda with more than 80 architects, landscape architects, and engineers. Notable recent projects for which he has served as Principal-in-Charge include the Samajik Health Science Institute & Research Centre, a 520-bed teaching hospital in Dhaka, Bangladesh; Norrsken Kigali House, an incubator for social entrepreneurs in Kigali, Rwanda; and the development of health facility standards with the Ministry of Health of Lagos State.
He has taught design studios at Northeastern University and Roger Williams rethinking primary care health centers to maximize positive social impact and resiliency. In parallel to this research, he led the design of the Family Health Center in McKinney, Texas - MASS's first built US healthcare project.