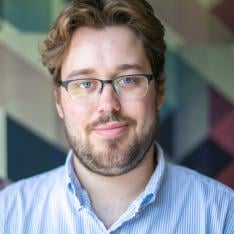 Christopher Conway
Advancement Specialist
Boston, MA, USA
Christopher Conway holds a deep interest in narrative, writing, and storytelling. As an Advancement Specialist at MASS Design Group, Christopher manages MASS's repository of projects, which he leverages to share the stories of MASS's practice, people, and projects. He has played a pivotal role in securing MASS recognition and awards, including the 2022 AIA Firm of the Year Award and the Royal Institute of British Architects International 2021 Awards for Excellence.
Since joining MASS in 2017, Christoper has collaborated on notable publications, including Justice is Beauty, MASS's first monograph of projects, and The Architecture of Health, which explores the evolution of hospital design to better care for patients. Christopher's work has supported the design and advancement teams to strengthen MASS's internal library of projects and information.
Christopher holds a Bachelor of Arts in English from Amherst College, where he explored the use of language and narrative across a variety of media, including literature, film, music, and virtual reality.