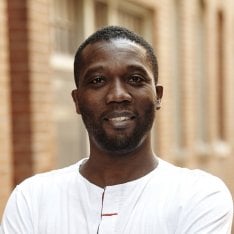 I believe that architecture is not just about building design, but also about the implementation of a dignifying process that creates long-term impact.
Christian Benimana, RA
Co-Executive Director and Senior Principal
Kigali, Rwanda
Christian Benimana is a Co-Executive Director and Senior Principal of MASS Design Group. As leader of the Kigali Studio, Christian's significant portfolio includes The Rwanda Institute for Conservation Agriculture, The Ellen DeGeneres Campus of the Dian Fossey Gorilla Fund, African Leadership University, the Ruhehe Primary School, and the Regional Centre of Excellence in Biomedical Engineering and eHealth. Christian was the Founding Director of the African Design Centre, a field-based apprenticeship that is set to empower leaders who will design a more equitable, just, and sustainable world.
Christian has extensive knowledge of the architectural industry in Rwanda, and East Africa at large. He was recognized as a 2017 Quartz Africa Innovator, and has been named among 10 architects and designers that are championing Afrofuturism. He was a speaker at the 2017 TED Global conference, and his talk about the next generation of African architects has garnered over one million views to date. Christian has authored articles and book chapters including An African Theory of Architecture in the Architectural Guide to Sub-Saharan Africa by DOM Publishers, Re-Thinking the Future of African Cities in The African Perspective Magazine, and Creating Design Leaders: The African Design Centre in Public Interest Design Education Guidebook. He was invited to curate an exhibition at the 18th International Architecture Exhibition of La Biennale di Venezia curated by Lesley Lokko.
Christian has taught at the Architecture School of the former Kigali Institute of Science and Technology (KIST) and his goal is to develop the next generation of African designers with socially-focused design principles. Christian holds a Bachelor of Science in Architecture from the School of Architecture and Urban Planning (CAUP) of Tongji University in Shanghai, China (2008), was a Global Health Corps Design Fellow in 2010, and served as the Secretary General of the East Africa Institute of Architects.