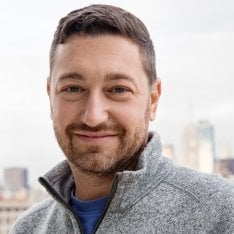 I believe that a safe and beautiful built environment is a fundamental right that too few people have access to.
Adam Saltzman
Principal, MASS.Build Director
Boston, MA, USA
Adam joined MASS in 2011, managing the Haiti office and completing the Ludwig Pavilion Multidrug-resistant Tuberculosis Hospital and Cholera Treatment Center, both for Les Centres GHESKIO in Port-au-Prince, Haiti. He then turned to manage MASS's operations in Liberia, working with the Ministry of Health and the World Bank to plan the New Redemption Hospital Caldwell. Adam has also managed the Construction Administration for Equal Justice Initiative's National Memorial for Peace and Justice in Montgomery, Alabama and Nyarugenge District Hospital in Kigali, Rwanda. Currently, he serves as Principal and Director of MASS Build leading the construction of The Ellen DeGeneres Campus of the Dian Fossey Gorilla Fund and the Rwanda Institute for Conservation Agriculture. 
Prior to MASS, Adam assisted with recovery efforts in the aftermath of the 2010 Haiti earthquake through Architecture for Humanity. He also interned at Carazo Arquitectos in San Jose, Costa Rica, and Perkins + Will at their New York and Atlanta offices. Adam received his Bachelor of Business Administration in Finance from James Madison University and his Master of Architecture from the University of Cincinnati in 2011.
Adam is the director of the MASS.Build Team, helping MASS invest in local construction capacity in Rwanda and assist our partners in delivering projects that maximize value throughout the supply chain. Read more about MASS.Build.