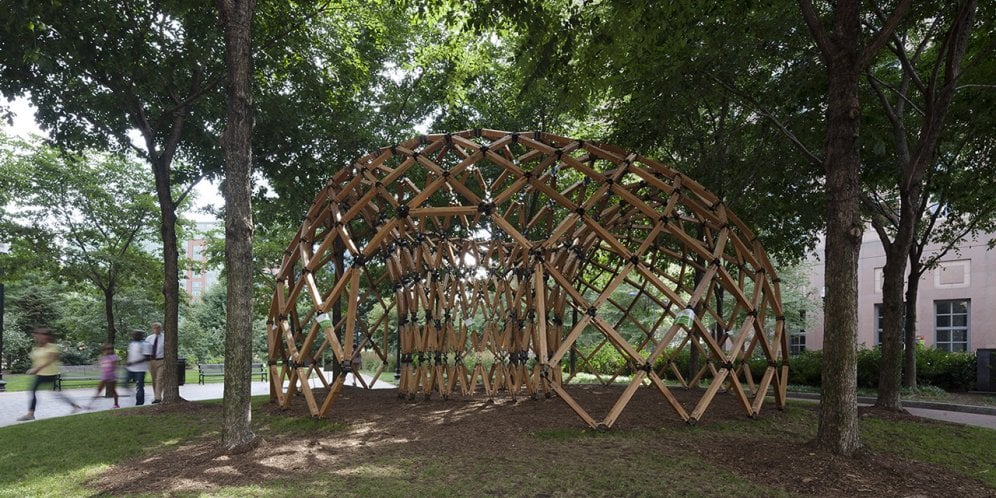 Boston, Massachusetts, USA
Developed for the Design Boston Biennial and on display on near Rowe's Wharf on the Rose Kennedy Greenway from July 2015 (Scheduled for removal in Fall 2016), the Lo-Fab Pavilion enabled students, practitioners, industry specialists, and community members to come together and teach each other through making. During the summer of 2015, MASS Design Group worked with students and Faculty from the Virginia Tech School of Architecture + Design, Center for Design Research on the iterative design, structural optimization, and fabrication of the experimental grid shell structure developed for the MASS Lo-Fab pavilion. In this case, formal complexity is resolved through functional complexity that emerges in both units of the structural system—the node and the strut—while each also maintains a level of simplicity appropriate to respective manufacturing processes and material properties. The structure was fabricated using state-of-the art collaborative robotic fabrication techniques and a merger of traditional craftsmanship and computationally driven manufacturing processes. In order to move from the computational design environment to one of material, the team worked in collaboration with AutodeskTM to develop a novel design-to-robotic fabrication workflow using the emerging visual scripting interface Dynamo. A custom robotically assisted welding process was developed to assemble 1880 steel parts making up 376 nodes and saving over three weeks of labor when compared to traditional processes. The process used during the construction of the Lo-Fab pavilion demonstrates that the use of advanced technology and respect for materials and manual skill are not mutually exclusive.
Now, in its second year on display on the Boston Greenway, the Lo-Fab Pavilion has helped bring the MASS mission to over 1.2 Million visitors.
The project was made possible through collaboration between MASS Design Group; Virginia Tech, School of Architecture + Design – Center for Design Research; Autodesk; Rudabega; and the United Nathans with support provided by the Autodesk BUILD Grant program.
Project Details
Location: Rose Kennedy Greenway, Boston, MA, USA
Year: 2015
Status: Completed
Program: Public Art Installation on Greenway of Boston
Services: Design and Construction
Clients:
Boston Society of Architects