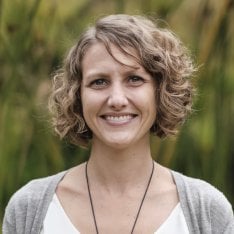 Architecture and design is the most impactful when it responds in a meaningful way to its context and the communities it represents.
Emily Goldenberg
Design Director
Boston, MA, USA
Emily Goldenberg is a passionate designer, manager, and team-builder with over 10 years of experience leading medium to large-scale design projects. Her work focuses on engaging partners and project teams in the design process to develop design solutions that advocate for its users and prioritize the conservation and health of our planet.
During her time at MASS, Emily has contributed to several projects, including the National Memorial for Peace and Justice, the New Redemption Hospital, and African Leadership University. She recently spent four years in the Kigali office leading the design and construction of the recently opened Ellen DeGeneres Campus of the Dian Fossey Gorilla Fund.
Prior to working at MASS, Emily was a Designer at Sasaki Associates. She received her Master's degree in Architecture at Roger Williams University where she was awarded the Master's Thesis award for her work on informal architecture and slum redevelopment for a potters community in Dharavi, Mumbai, India.