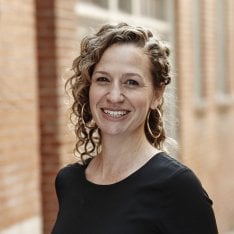 I believe that the built environment impacts our lives and we can design the process to create positive social change.
Patricia Gruits, AIA, LEED AP
Co-Executive Director and Senior Principal
Boston, MA, USA
Patricia Gruits, AIA, is a Co-Executive Director and Senior Principal focused on supporting our MASS North American Studio. Architect and researcher, Patricia joined MASS in 2013 and, working in both Boston and Kigali, has led design teams on critically acclaimed projects, including the African Leadership University, the Ellen DeGeneres Campus of the Dian Fossey Gorilla Fund, the Mubuga Primary School, Maternity Waiting Village in Malawi, the headquarters for Children's Services of Roxbury, and numerous affordable housing projects, for older adults and vulnerable populations, with 2Life Communities and North Shore CDCs. Her contributions to The Role of Architecture in Fighting COVID-19 on Designing Senior Housing for Safe Interaction has been featured by Leading Age, the Harvard Joint Center for Housing Studies.
Patricia's work is aimed at engaging and empowering stakeholders in the design process and translating research into design strategies and decision making. She is also an author of the Purpose Built series— a set of tools for creating impact-driven design— and has implemented this approach to the design of housing, schools, and health facilities around the globe. She is currently leading the research and design of projects applying principles of Trauma-Informed Care into space design and the design process.
Recipient of the 2020 Flansburg Young Designer Award by the Boston Society for Architecture, Patricia has taught at The Rhode Island School of Design and Northeastern University. Her work has been published in journals of architecture and health and Patricia is a frequent speaker at national and local AIA events, including the AIA 2022 National Convention where MASS received the 2022 AIA Architecture Firm Award and can be heard on the Shared Space Podcast by Erin Peavey. A Boston resident, Patricia serves on the Foundation Board of the Boston Society for Architecture. She received her Bachelors of Science and Masters of Architecture from the University of Michigan, Ann Arbor.