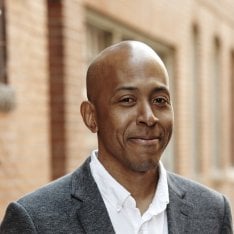 Jonathan Evans, RA
Principal
Boston, MA, USA
Jonathan is a licensed architect with MASS Design Group. At Harvard, Jonathan was awarded the Alpha Rho Chi medal for leadership, service and promise of professional merit. Since then, his work has ranged from affordable multi-family housing to planning and urban design work for nonprofits and public agencies, but the through line has always been a focus on initiatives with measurable community value and public interest.
Jonathan is currently working on building out MASS's portfolio in affordable housing projects, including upcoming developments in Cleveland, Ohio and Brighton, Massachusetts. Jonathan is also the project manager of a new memorial dedicated to Martin Luther King Jr. and Coretta Scott King in the Boston Common.
He has taught undergraduate and graduate level studios at the Boston Architectural College and Northeastern University, and has lectured at the conference of the National Organization of Minority Architects and at the Harvard Graduate School of Design. Jonathan is a Mayoral Appointee to the Boston Civic Design Commission, where he serves on a panel that reviews significant projects that impact the city's public realm.